Since 2011, Stormforce has been doing what is right for roofs in Fleming Island, Florida. Our roofing experts pride themselves on their ability to get homes and businesses in the area ready to withstand the storms we get here in northeast Florida. Whether your roof suffers from age or wear and tear or a storm produces damage, we are here for you and your roof.
Quality Residential Roofing in Fleming Island, FL
At Stormforce, we view roofing as a partnership with our customers and the community here in Fleming Island. We are with you every step of the way. We work together to give you the roof you deserve through a transparent process.
A new roof might not be on your want list, but we use superior materials combined with quality craftsmanship to wow you. Over the years, we have streamlined our process. Life won't wait, so you shouldn't have to wait long to get back to normal under a roof you can trust. Contact Us Today!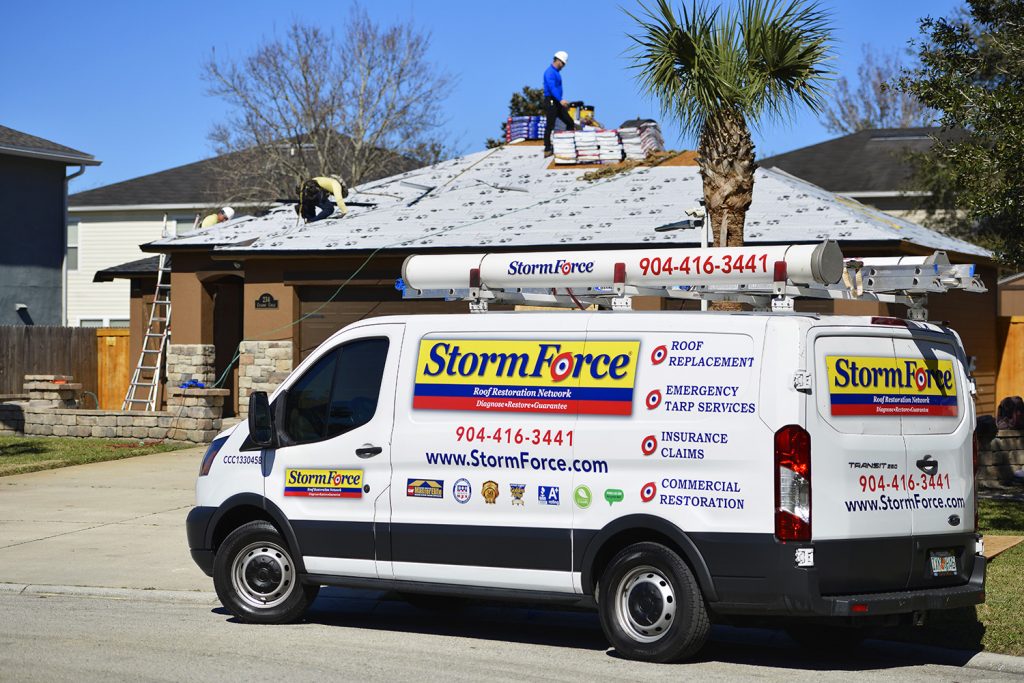 Our Streamlined Process:

1. Set Up Your Consultation
Contact us to set up a no-contact or in-person consultation.
---
2. Have Your Consultation
In-person Consultation
One of our knowledgeable roof inspectors will assess your roof and report the findings to our office.
Meet In-person

We will meet in person to go over the details.
We'll get to know your home and the scope of the project.
Important information will be noted and incorporated into the project.
We will go over our process for your project.
We will determine the price.
---
3. Proposal Assessment
We will meet over video or in-person to go over the proposal and what it includes.

Design Specifications
Pricing
We'll send you a digital contract for the proposal.
Once signed, we set up the dates and start on the installation.
---
4. Installation
Our highly-trained team comes to your home and performs the installation.

While we are there, we treat your home the way we would want ours to be treated.
---
5. Lasting Results
Your roof is ready to perform and last. No more roof worries!
Commercial Roofing in Fleming Island, FL
StormForce prides itself on helping local communities. Businesses here in Fleming Island are essential to keeping our community prosperous and creating a nice place to live, work, and shop.
StormForce is an industry leader in providing commercial roofing solutions for businesses.
We know the roof over your business is essential for your livelihood. We work to keep disruptions to your business to a minimum. We give you a roof to last at a price your budget can handle. If you need some insight on the performance of your Fleming Island roof, contact us today!