Life's a beach here in Ponte Vedra, Florida, but living so close to water, we do get our share of storms. As a leading roofing contractor since we began in 2011, Storm Force is here to provide expert roof solutions and emergency weather services for homes and businesses in Ponte Vedra, Florida.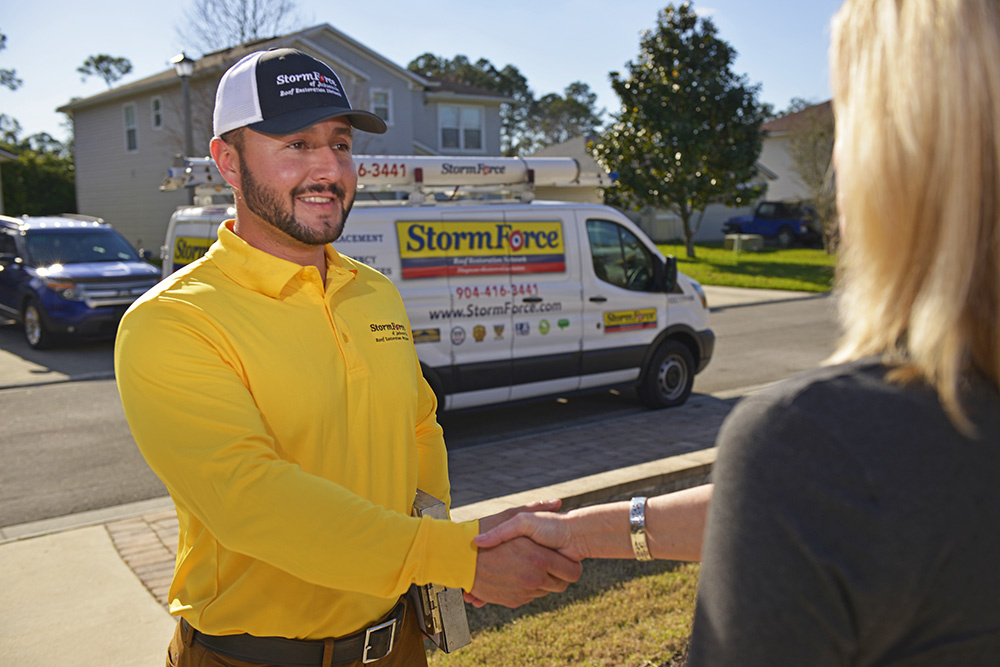 Residential Roofing in Ponte Vedra, FL
You may not think much about your roof until it springs a leak, but once your roof is compromised, damage can quickly spread and affect every aspect of your home. Signs of damage to look out for include:
Stains
Mold and moss
Leaks
Cracked, damaged, or missing shingles
Drooping or sagging roof
If your roof is suffering from age, wear and tear, or severe storms in our area, our roofing experts can come out and give you a report of your roof's performance and recommendations. When we replace your roof, you can enjoy a stress-free, streamlined process.
Our Streamlined Process:
1. Set Up Your Consultation
---
2. Have Your Consultation
One of our expert roof inspectors will assess your roof and report the findings to our office.
Meet In-person

We will meet in person to go over details like budget and expectations.
We'll examine your home and determine the scope of the project.
We take note of design ideas, colors, and any other input from you.
We will discuss our process and answer any questions.
We determine the price.
---
3. Proposal Assessment
We will meet over video or in-person to finalize the proposal and go over what it includes.

Specifications
Pricing
We also send you a digital contract for the proposal.
Once signed, we decide on the dates and begin the installation.
---
4. Installation
Our dependable and highly skilled team comes to your home and performs the installation.

While we are there, we treat you and your home with respect.
---
5. Lasting Results
Your roof will be the envy of the neighborhood. You will rest easy and stay dry, even under the afternoon thunderstorms we experience every summer.
Commercial Roofing in Ponte Vedra, Florida
Businesses are integral to the prosperity and happiness of our community. The experts at StormForce know how important your business is to your livelihood. A performing roof is essential for protecting your business and any workers you employ.
If you are worried about your commercial roof, let one of our highly trained inspectors assess your roof and look for issues you may not notice on a daily basis. If you do need a new roof for your business, we partner with you to give you a roof to last with minimal disruption to your business.
Every full roof replacement is supervised by a dedicated site foreman who will make sure your roof is installed seamlessly, following our proven process. We look forward to partnering with you to give your home or business the roof it needs to withstand the Florida weather.