Since 2011, StormForce has focused on providing superior craftsmanship and quality roofing materials to residents of Jacksonville, Florida. We know your roof is a significant investment, so we make sure you know precisely what your roof needs to withstand the heat and storms in our area.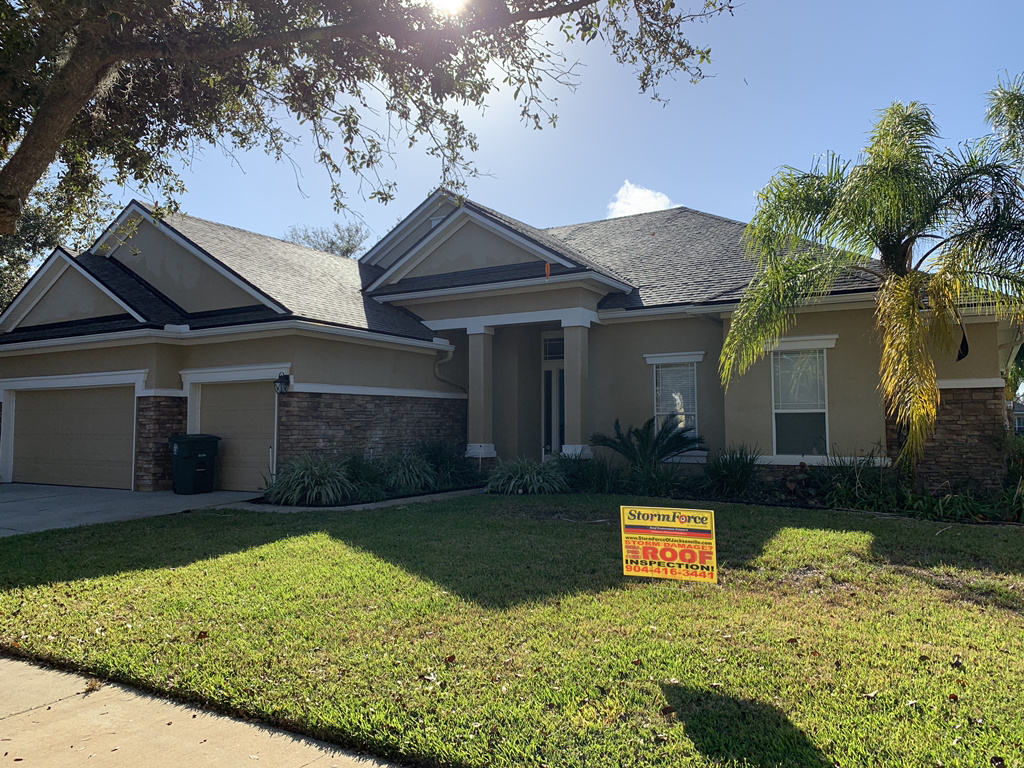 All projects begin with a thorough roof inspection. We specialize in commercial and residential roof replacements. StormForce is a GAF Certified Master Elite Contractor authorized by the GAF Corporation to issue a Lifetime Warranty on installations.
Since our roofing professionals are also Floridians, we know storms can be unexpected and can result in massive damage. We quickly respond to weather-related roof emergencies. We can tarp your home to prevent further damage while exploring your roofing options.
It is vital to recognize a small leak can lead to big problems, especially given the amount of rain we get in Florida. Sometimes your home or business may have problems without any noticeable signs. Our expert roofing professionals can find problems undetectable by the untrained eye. The earlier you discover issues, the better your home or business and everything inside will fare.
Residential Roofing in Jacksonville, Florida
Every roof replacement project comes with a dedicated site supervisor to oversee the project. After our free inspection, we will go over the results with you. Once you are well informed about your roof, we explore product options and come up with the project's scope.
Commercial Roofing in Jacksonville, Florida
We know running a business comes with many responsibilities, so the professionals at StormForce will take care of your roofing needs. Damage to the roof of your commercial structure can threaten your livelihood, so we make sure you get a roof made to last for a price your budget can withstand.
StormForce is happy to call Florida home. Our team loves this city and plays an active role in our community. Our goal is to be transparent in our business practices and to provide quality services and materials.
Once our work is done, we leave the site as close to the way we found it as possible. Your roof will be ready to protect your home or business and everything important it contains.
Whether your home or business needs a new roof or storms cause damage you can't ignore, give our professionals a call!